Nice eco-friendly ideas for birthday parties
April 12,2021
Concerning birthday party, we need, as always, purchase bulk disposable items including cups, plates, cutlery, celebration popcorn bucket and so on. Of course, it's better make a careful party plan before the coming birthday. Have you ever imagined your party would be more greener? There are some nice ideas for your party.
Eco-friendly birthday party ideas
We have realized the importance of environmentally friendly tableware to replace disposable plastic tableware. At the same time, with the improvement of environmental awareness, people are willing to start from themselves and spend time looking for biodegradable tableware at your or your child's birthday party, which will make your birthday party more green and meaningful. But environmentally friendly tableware is not equal to biodegradable tableware. Here we provide you with biodegradable and environmentally friendly birthday party ideas.
How to plan a birthday party? What kind of birthday party supplies do you need to buy? Who will you invite?
I think no matter what the party is, planning is often a difficult task. This beautiful day is different from the past. You need to think a lot about your birthday party or your children's birthday party.
Food
The secret of food arrangement lies in the number of people at the birthday party, their food restrictions, and an important point is your budget. Make sure your food fits the theme. Here are two ideas. If your friend prefers Western food, then steak, Ketchup, IQF potato can French fries. By the way, don't forget to buy frozen pumpkin in advance, maybe you can make pumpkin soup.For Chinese Food, dumplings, glutinous rice balls, and some other pastries, fruit and vegetable salads, popcorn, etc. Of course the cake is a must. I think, whether it's Chinese or Western, the buffet is a great idea.
Tableware
Cutlery
Buy biobased Cutlery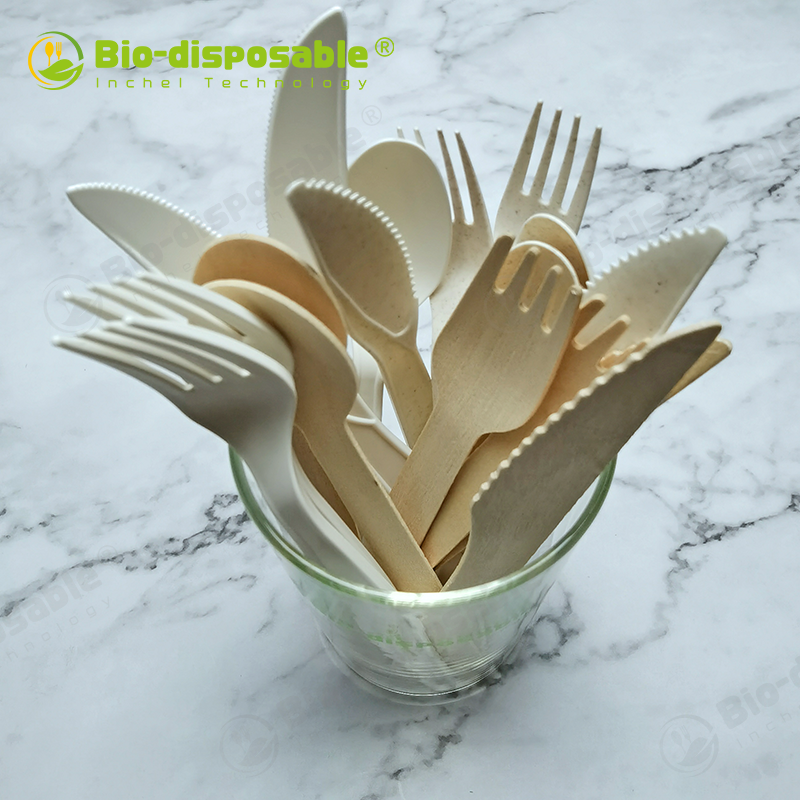 After you have determined your food, this is a very important step. We will choose tableware according to the type of food. To make this party more environmentally friendly, biological cutlery can help you realize this idea. Biological cutlery is made of a biodegradable bio-based plastic, although it looks like plastic, it is not. It has similar properties to plastic,but unlike plastic that takes a long time to decompose, it reduces white pollution. It is an excellent substitute for non-degradable disposable plastic cutlery.
Inchel's bio-disposable cutlery, including knives, forks and spoons, are used for meals or consumption. Disposable knives can be used to cut meat, such as steaks. Disposable forks can be used to eat cakes, fruits, etc. Disposable spoons can be used for soup, porridge, etc. This will provide convenience and hygiene for your birthday party.
Skewer
Your party may have a variety of delicacies, including grilled meats, fruits, vegetables, etc. There is no shortage of ideas that you have to string them together. After all, this will make your party more successful and the meal more attractive.
Bamboo straws bulk
It is made of natural bamboo which is biodegradable. In the previous blog, we have talked about bamboo straws can make outdoor parties more eco-friendly. I have to say this can also make your indoor birthday party greener.
Biobased plastic cup
Biobased plastic cup is a kind of drinking tools made by biobased plastic, and its appearance is cup-shaped. Biobased plastic cups for frozen foods which can hold ice cream, jam, butter, etc. Biobased plastic cups can be also used for hot drinks, resistant to temperatures above 90°C, and can even bloom with water. Biobased plastic cup is characterized by safety, hygiene, lightness and convenience. It can be used in public places, restaurants, and restaurants. It is a disposable item, replaces non-degradable plastic disposable cup.
In addition, please place toothpicks near the food, they use biodegradable natural bamboo, so that guests will find you very caring.
For these environmentally friendly and biodegradable tableware, you can buy high-quality and washable party tableware from the Inchel online party supply store. You can also choose to use disposable tableware for easy cleaning.
Your guests
If the protagonist of the birthday party is you, there is no doubt that you have invited your close friends and their partners.
If the protagonist of this party is your child, please rest assured that your child invites it by himself, after all, they have reached the age when they can make the decision on their own, and his circle of friends is forming. Most of the people you have invited are your friends' children, but now it's not necessarily the people your children want to invite.
Activity
Use your favorite things and styles as the theme of your party. Make an activity plan for you or your children and party guests in advance to ensure that the activities you arrange fit the theme.
Decoration
Balloons are indispensable. Some balloons have fine glitter powder, which will add atmosphere to the birthday party. Remember to buy masking tape jumbo roll in advance. After all, the birthday party words on your wall are often accompanied by balloons. In addition, to ensure that your room is always on this day, you can turn on a few recessed anti glare downlighst, after all, downlight bulbs are environmentally friendly and energy-saving.
Other considerations
Because you invited them to your home, you have to ensure the most important thing-the safety and hygiene of the ingredients. Please prepare comfortable earloop facemasks, gloves and hats for the aunts or parents at home to prevent hair fall Into the meal. Before the day arrives, clean your room. After the party, a lot of garbage may be generated. But I think your cleaning work may be reduced. The disposable biological tableware you use can be thrown away or you can choose to reuse it.
If you are also making birthday parties more environmentally friendly, it is time to choose biodegradable environmentally friendly tableware to replace disposable contaminated tableware. These subtle actions can make the planet we live in more green.